Podcast: Play in new window | Download (Duration: 1:12:33 — 66.6MB)
Listen in on a conversation with 3 powerhouse music educators: Jasmine Fripp (The Passionate Black Educator), Maria A. Ellis (Girlconductor), and Karla Bell (The Graceful Educator) as they talk honestly about what is going on in music education.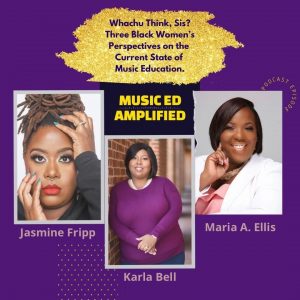 Bios:
Karla Bell, The Graceful Educator, is a veteran Music educator, serving more than 15 years in diverse settings, serving grades Kindergarten through 12th grade and post-secondary education. She currently serves as the Choral Director William Penn High School in Colonial School District in New Castle, Delaware. She is a mentor and teacher's teacher. Using equity, anti-racist, and trauma-informed lenses, she facilitates graceful learning spaces for scholars and empowers fellow educators to do the same. Karla believes in the gifting and potential of every person she encounters. She is a catalyst. Her passion is removing barriers for uninhibited access to opportunity and laying a strong foundation for present and future generations. She leads and serves on equity and curriculum teams and facilitates professional development at the school, district, and state levels.
Maria A. Ellis is a very passionate music educator and choral conductor. She currently serves as the Director of The Sheldon's City of Music All-Star Chorus and is the host of Bach and Beyoncé – The Radio Show on Classic 107.3 FM The Voice for the Arts in St. Louis, MO.  Maria is an active clinician, adjudicator and presenter throughout the United States and abroad.  Maria holds a B.M. in Music Education emphasis on Voice (K-12 Certified) Degree from the University of Missouri- St. Louis. She has served as a host for The St. Louis Symphony's Link Up Program, The Community Engagement Manager for The St. Louis Children's Choirs and an Ensemble Director for The St. Louis Children's Choirs new Virtual Chorus. Maria is the Repertoire and Resource Chair of Inclusivity for the Missouri Choral Directors Association.  She is an active member of the American Choral Directors Association, National Association of Music Educators, Missouri Alliance for Arts Education and holds Level 3 Certification from the CME Institute for Choral Teacher Education. Maria is the owner of Girl Conductor LLC which provides diverse music education resources.
Maria's Website: http://www.girlconductor.com
Jasmine Fripp is the founder of The Passionate Black Educator (PBE), an organization that advocates for Black and Brown students by providing opportunities to learn and advance through music, fine arts, and education. PBE empowers current and future educators of all cultural backgrounds and career fields to create classroom environments where teaching is effective, all cultures are celebrated within the curriculum, and solidarity is mandatory. Jasmine also serves as Director of Choral Activities and General Music Instructor at KIPP Nashville Collegiate High School.

Additional links to resources/people mentioned in the show: