Podcast: Play in new window | Download (Duration: 1:00:08 — 55.3MB)
Karla Bell, the Graceful Educator, joins Missy on the podcast to talk about the work she does every day in her program to lift up and nurture students, helping them grow into the learners and leaders that they need to be. You'll hear about what it means to focus on equity and antiracist practices through a trauma-informed lens while also learning how to lessen the temptation to be a "perfect teacher" in a time when we need to strike a better balance in life!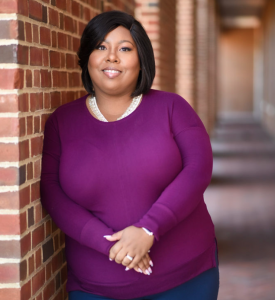 Karla Bell, The Graceful Educator, is a veteran Music educator, serving more than 15 years in diverse settings, serving grades Kindergarten through 12th grade and post-secondary education. She currently serves as the Choral Director William Penn High School in Colonial School District in New Castle, Delaware. She holds a Bachelor of Arts in Music Education from Delaware State University and a Master of Education degree in School Leadership from Wilmington University.
Karla is a mentor and teacher's teacher. Using equity, anti-racist, and trauma-informed lenses, she facilitates graceful learning spaces for scholars and empowers fellow educators to do the same. She leads and serves on equity and curriculum teams and facilitates professional development at the school, district, and state levels. Her professional memberships and affiliations include the National Education Association, National Association for Music Education, Delaware State Education Association, and Delaware Music Educators Association.
Karla is a native of Dover, Delaware. She enjoys traveling, live performances, reading, and days at the beach. She is happily married to her husband Calvin and they have one daughter. Karla believes in the gifting and potential of every person she encounters. She is a catalyst. Her passion is removing barriers for uninhibited access to opportunity and laying a strong foundation for present and future generations.