Podcast: Play in new window | Download (Duration: 1:07:35 — 62.1MB)
Music Educator Natasha Verhulst, an enrolled tribal member of the Bad River Band of Lake Superior Chippewa Indians and a descendant of the Menominee Nation, talks to Missy about her life growing up in Wisconsin and shares how her love for the music and culture of her people led her to become a musician and eventually, a music teacher.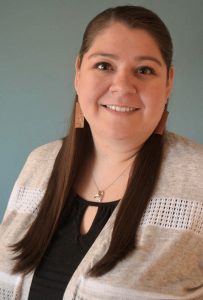 Natasha Verhulst is an enrolled tribal member of the Bad River Band of Lake Superior Chippewa and a descendant of the Menominee Nation. She received her bachelor's degree in Music Education with triple certification from St. Norbert College in De Pere, Wisconsin in 2015, and is currently working towards her master's degree in Music Education with emphasis in Kodaly previously at Holy Family College and plans to finish the program at Lakeland University. Natasha has taught 9th-12th grade band and choir at Menasha High School in Menasha, WI and 5th-8th grade choir, band, and general music at Kiel Middle School in Kiel, WI. She is currently teaching 4K-5th grade general music at Keshena Primary School in Menominee Indian School District on the Menominee Reservation in Wisconsin. 
Natasha's career goal is to help bring native music and culture to the music classroom setting for children to experience and learn from. Natasha recently worked with PBS on their project "ReSound: Songs of Wisconsin," creating a diverse curriculum of different cultural music for educators throughout the state. She presented at the Wisconsin Music Educators Association State conference in October 2019. Recently, Natasha was a part of the 2020 WSMA Summer Workshop series, where she taught a session to music educators on how to include Native American music in regular music lessons. The National Indian Education Association (NIEA) is featuring Natasha's lesson plans on their website so that educators throughout the country may use them in their classrooms. She is also a Diversity, Equity, Inclusion, and Access committee member for the Feierabend Association is Music Education. Natasha enjoys spending time with her husband and relatives, performing, crocheting, and beading in her spare time.
Article about Text for Land Info
Books:
An Indigenous Peoples' History of the United States
An Indigenous Peoples' History of the United States (For Young People)
All the Real Indians Died Off: And 20 Other Myths About Natibe Americans (Myths Made in America)
Everything You Wanted to Know about Indians But Were Afraid to Ask
Why You Can't Teach United States History without American Indians